COMPANY HISTORY

Serving the Omaha Metro community since 1994!
Aqua Palace Spas & Pools in Council Bluffs, just minutes from Omaha, is a family-owned business that's all about the fun, relaxation, and therapy found in water and in saunas. We are conveniently located right off I-80 in Council Bluffs with a 5,000 square foot indoor showroom as well as a large outside pool garden. We host the largest indoor and outdoor showroom for hot tubs, saunas, above ground pools and in-ground swimming pools.
At Aqua Palace you can be assured of getting small town integrity, an educational presentation and a totally enjoyable buying experience. Are you in need of Parts and Supplies, remodeling, pump repair or even swimming pool construction? Come to us for all of your spa, pool or sauna needs including our extensive selection of spa & pool chemicals and accessories!
Aqua Palace is all things backyard fun in the water! For 25+ years we've helped you get the most enjoyment, relaxation, and therapy that water and saunas can provide at your home. We provide Omaha's largest selection of hot tubs, saunas, aboveground pools and in-ground swimming pools along with all the accessories and water care products that come with them.

---
Here are five things you need to know about Aqua Palace Spas & Pools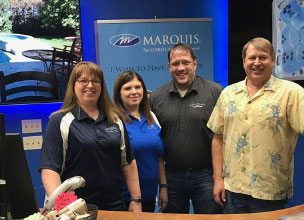 We're Family-Owned

Family-owned Aqua Palace of Council Bluffs, Iowa
Scott Rolenc began the business in the early 1990's with a small store selling hot tubs and pools in his home town Red Oak, Iowa. As the business grew and moved to Council Bluffs his wife Cindy came on board to help with bookkeeping and paper work. Growing up with their Dad's business, eventually all of Scott's children had some part helping out at Aqua Palace. Today you'll see Scott's daughter Jennifer and son-in-law Jason wearing all kinds of hats in running the store. Even as Aqua Palace has grown and added other employees, we still believe in those small town, family values that instilled in our roots.
---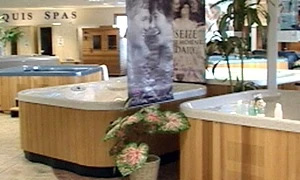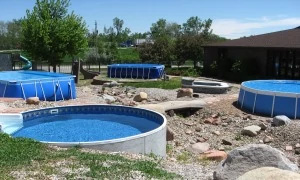 Metro's Largest Showroom–Inside and Out!

Metro Omaha's largest showroom of hot tubs, saunas and accessories is Aqua Palace in Council Bluffs/Metro Omaha's largest outdoor pool garden at Aqua Palace in Council Bluffs.
When it comes to hot tubs, saunas and pools, we know one size, two or even a few sizes won't fit all. That's why Aqua Palace built the largest showroom in the Omaha area to provide you the most selection. We display over 20 new Marquis hot tubs in different styles, colors and price options. Many of the hot tubs are wet so you can take a test dip! Or, you can shop our warehouse stocked with quality money-saving pre-owned tubs. We also have a variety of infrared as well as traditional steam saunas. And we're the only pool dealer in Omaha metro to have an outdoor pool garden where you can see in-ground and aboveground swimming pools set up and running to help you choose the ideal pool for your family.
---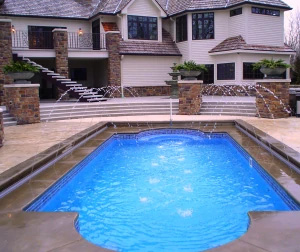 International Award-Winning Pool Builder

Aqua Palace is an international award-winning pool, deck and landscaping builder. In the early 2000's Aqua Palace began submitting completed pool projects to our industry's trade organizations annual international awards competition. Since then we have won numerous awards for our designs and construction of residential pool, deck and landscaping, from Merit up through Gold Winner. We put this the same creativity and effort into every major pool project. Have an international award-winning builder design and complete your ultimate backyard escape! See our previous winning pool projects.
---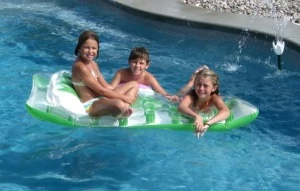 Certified Pool/Spa Operators

As Certified Pool/Spa Operators, Aqua Palace are expert water care specialists. When it's your pool or hot tub, you want the safest, healthiest water possible for your family. Aqua Palace takes clean water very serious. Staff members at Aqua Palace are CPO certified by the National Swimming Pool Foundation. Not only have they been trained on the operation and safety of swimming pools and hot tubs, they are also very qualified water care specialists. They're skilled on the use of cleaners, sanitizers, filters and all the techniques for maintaining pure water. We test water for free. Bring in your water sample to Aqua Palace and we'll consult you on how to remove the undesirable, then keep your water clean and robust for the well-being of your family.
---